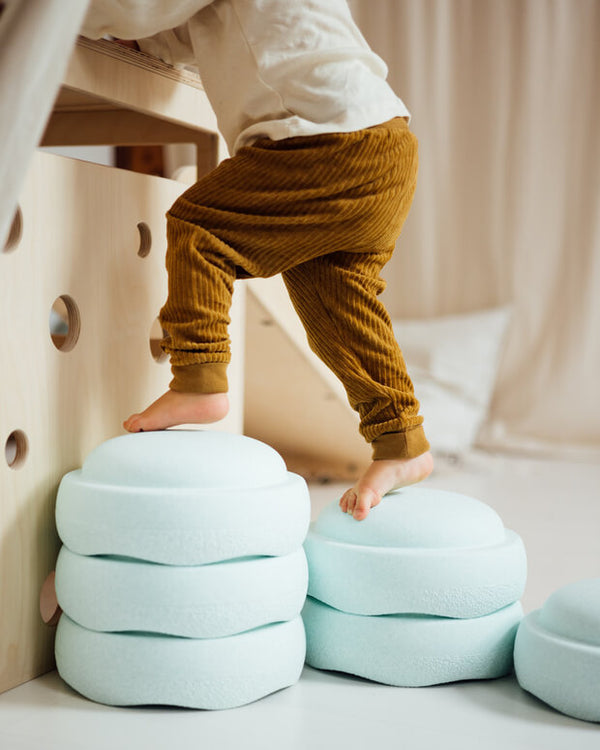 Stacking stone - Original Ocean, set of 6
Neu ab
Unit price / per
tax included zzgl. Versandkosten
Für kostenfreien Versand qualifiziert!
Gewöhnlich versandfertig in 3 bis 4 Werktagen.
Bring color and sustainability into your game: Stapelstein Original Ocean
Immerse yourself in a world of fun, movement and sustainability with the Stapelstein Original Ocean Set! This mint colored set is not only beautiful to look at, but also makes a strong statement against pollution in our seas.
Thanks to the use of 15% recycled waste from maritime industrial waste, you can play with a clear conscience and protect the environment at the same time. Combine the Stapelstein Originals ocean with all other colors and the Stapelstein Board for even more fun!
Use the Stapelstein products for exciting balancing games and parcours on a level, non-slip surface and stack them up to a maximum of 3 elements high if you want to climb a tower on foot.
Waterproof and ideal for use in water, the Stapelstein elements are perfect for summer bathing fun. Let them sound like drums in the water, but remember they don't replace a flotation device. Young children should always be supervised when playing with Stapelstein products in the water.
Product details at a glance
Safe stacking toy: no sharp corners, waterproof, saliva-proof and UV-resistant
180 g light and up to 180 kg loadable
Dimensions of the stacking stone: diameter = 27.5 cm, height = 12 cm
The stacking stone consists of resource-saving EPP (expanded polypropylene)
Can be combined with all Stapelstein products
Climate-neutral production in Germany
Without plasticizers and 100% recyclable
Maximum load of Stapelstein Board: 120 kg