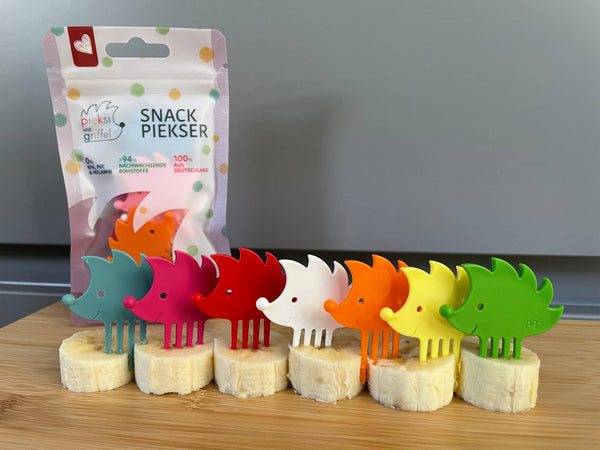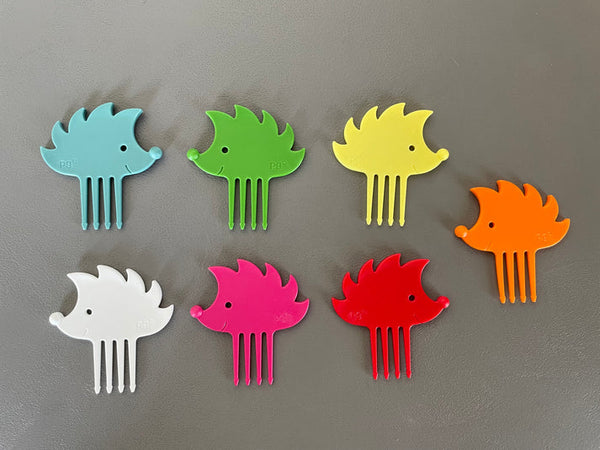 Pieksi and stylus set of 7 "Lucky Seven"
Neu ab
Unit price / per
tax included zzgl. Versandkosten
Lieferbar, in 2 bis 3 Werktagen bei dir!
🌈 Pieksi and Griffel: "Lucky Seven" set of 7 - Sustainable snack pokes for happy children's hands! 🌈
Would you like to offer your children a playful and motivating way to discover new foods and enjoy healthy snacks? Then the "Pieksi und Griffel" snack picks in the "Lucky Seven" set of 7 are just right for you! In the cheerful colors red, yellow, light green, white, pink, orange and turquoise, they bring a lot of joy and variety to everyday life.
Perfect for small hands and easy to clean: The snack picks are designed so that even small hands can easily grasp them. The non-slip material is almost indestructible and guarantees long durability. In addition, they are easy to clean and generally dishwasher safe - although hand washing is recommended.
Sustainable and safe: Designed and produced in the south of Baden-Württemberg, the snack sticks consist of more than 94% renewable raw materials such as glucose from sugar cane or sugar beet. The remaining 6% is made up of organic additives, minerals, natural waxes and dyes. This makes them BPA, PVC and MELAMIN FREE and environmentally friendly. The packaging is made of recyclable polyethylene (LDPE) and has no aluminum film, so it can be disposed of in the yellow bag or bin.
Details at a glance
Set of 7 "Lucky Seven" in red, yellow, light green, white, pink, orange and turquoise
Grippy, almost indestructible material
Playfully encourages handling cutlery and trying out new dishes
Sustainable: over 94% from renewable raw materials
BPA, PVC and MELAMINE FREE
Barbs prevent the pricked item from falling off
Practical and handy for at home and on the go
Easy to clean, basically dishwasher safe (hand wash recommended)
Eco-friendly, recyclable packaging