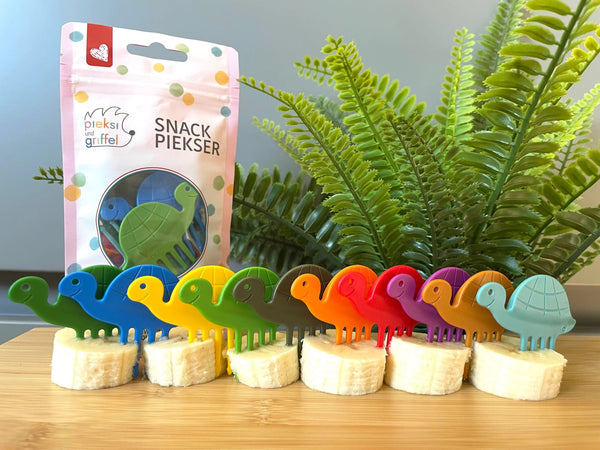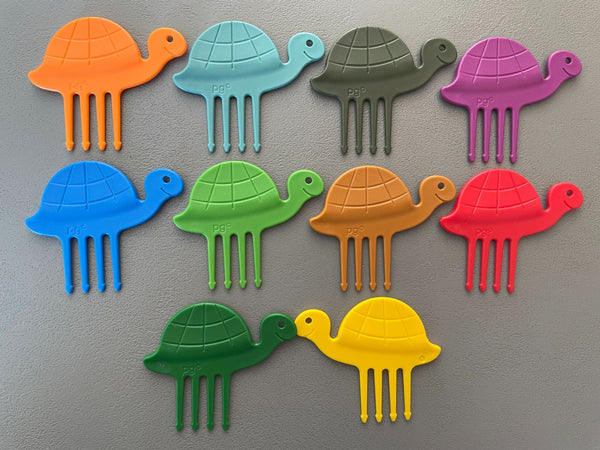 Pieksi und Griffel 10er Set "Ten Turtles"
Neu ab
Unit price / per
tax included zzgl. Versandkosten
Lieferbar, in 2 bis 3 Werktagen bei dir!
🐢 Pieksi and stylus: Ten little turtles conquer the plate: The colorful "Ten Turtles" set! 🐢
Imagine yourself on a tropical island where brightly colored turtles in bright colors line the shore. With our "Ten Turtles" Pieksi and Griffel Set this idea becomes reality!
In this set you get ten magical turtle Pieksis in the colors red, sunny yellow, light green, leaf green, orange, blue, light purple, olive, caramel and turquoise. They are just waiting to make your snack a colorful and joyful experience!
The resealable packaging serves as the perfect storage place for your Pieksis and can be easily recycled in the yellow bag - without any aluminum film!
Your little turtle friends are also easy to care for: they are dishwasher-safe, but feel most comfortable under running water with a mild detergent. Please note that food that stains strongly can lead to slight discoloration in the dishwasher - this does not affect the use of the Pieksis in any way.
To protect your faithful companions, we recommend that you do not wash them together with metal cutlery in the same compartment of the cutlery basket. This way you avoid superficial damage and keep the bright colors of your turtles.
✨ Details at a glance
Set includes 10 colorful turtle Pieksis
Colours: red, sunny yellow, light green, leaf green, orange, blue, light purple, olive, caramel, turquoise
Manufactured in Baden-Württemberg
Over 94% from renewable raw materials
BPA, PVC and melamine free
Resealable and recyclable packaging
Care instructions: dishwasher safe, preferably running water and mild detergent