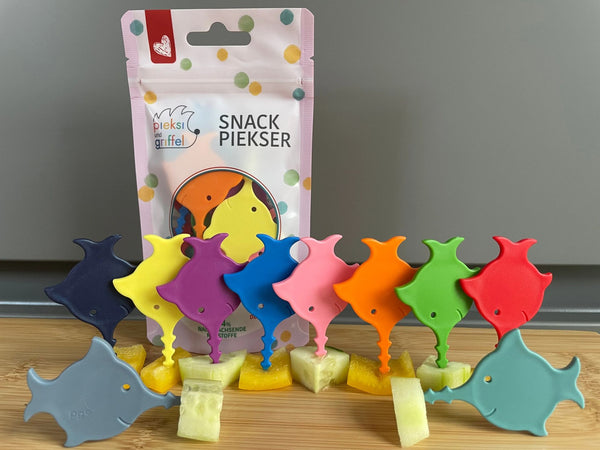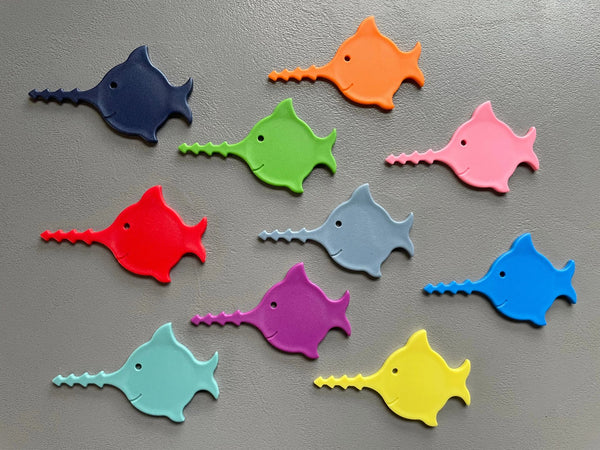 Pieksi und Griffel 10er Set "Fishermans Ten"
Neu ab
Unit price / per
tax included zzgl. Versandkosten
Lieferbar, in 2 bis 3 Werktagen bei dir!
🐟 Pieksi and stylus: set of 10: Experience the colorful underwater world with the "Fisherman's Ten" sawfish pieksis! 🐟
Set sail and embark on a colorful adventure with our "Fisherman's Ten" sawfish picks set! This set contains ten equally sized, lovingly designed sawfish spikes in vibrant colours: dark blue, red, turquoise, light green, orange, grey-blue, light purple, pink, blue and yellow. With them, every snack becomes an experience!
The Pieksis not only demand your dexterity, but also bring a new challenge with them: the "Pieks" level. Be skillful, be quick and poke with just one poke! Your motor skills and dexterity are trained in a fun way.
But be careful, young sailor! While the sawfish bites are irresistible, they are not meant to be chewed. Chewing could leave both visual and functional marks on the material and spoil the look of your colorful sea friends.
The sustainable packaging is not only practical, but also environmentally friendly. It is resealable and therefore serves as a perfect storage place for your Pieksis. It can be easily recycled in the yellow bag and is also aluminum film-free. With the "Fisherman's Ten" Sawfish Pieksi Set you dive into a world full of color and fun while doing something good for the environment.
✨ Details at a glance
Set includes 10 equal sized sawfish spikes
Colours: dark blue, red, turquoise, light green, orange, grey-blue, light purple, pink, blue, yellow
Demands and promotes motor skills and dexterity
Manufactured in Baden-Württemberg
Over 94% from renewable raw materials
BPA, PVC and melamine free
Resealable and recyclable packaging
Not suitable for chewing
Dishwasher safe, preferably running water and mild detergent