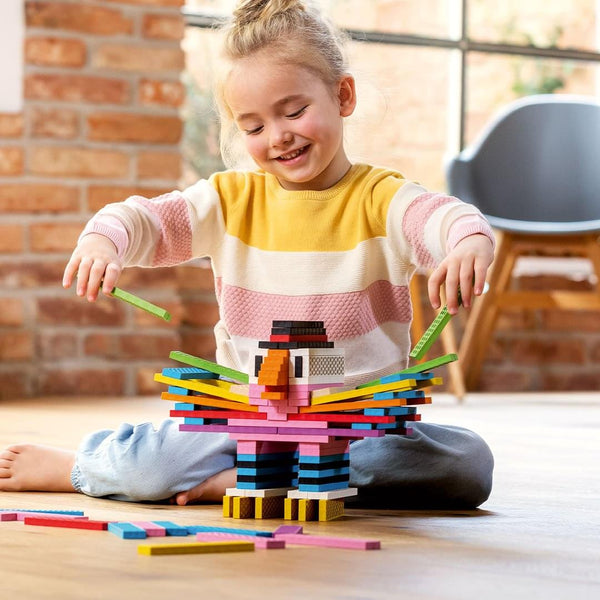 "Multi-Mix" fun box with 200 building blocks
Neu ab
Regular price
49,99 €
Sale price
59,95 €
Unit price / per
tax included zzgl. Versandkosten
Lieferbar, in 2 bis 3 Werktagen bei dir!
Spark creativity: "Multi-Mix" fun box with 200 Bioblo building blocks!
Prepare yourself for endless fun and unlimited creativity in the children's room - with the "Multi-Mix" fun box and its 200 colorful building blocks! The expanded color spectrum includes 20 stones each in red, yellow, green, blue, orange, pink, violet, black, white and beige, so there are no limits to your imagination. The carrying handle of the box is also practical, which ensures easy transport (as long as you don't hold it upside down).
In addition to the huge fun factor, the Bioblo building blocks also impress with their ecological sustainability and educational values. The unique honeycomb shape promotes dexterity, concentration and coordination in young and old. Made from 100% natural or recycled raw materials, Bioblos are a long-lasting quality product that should bring joy to generations. Bioblo is an Austrian toy startup with big ambitions.
Bioblo was the first and only toy manufacturer to be awarded the Austrian eco-label and the German "Blue Angel", which stands for maximum sustainability and first-class product quality.
Fun Box "Multi-Mix" at a glance
200 Bioblo blocks in 10 colors
Dimensions (L x W x H): 32 x 32 x 14 cm
Weight: about 3.5kg
Practical carrying handle
Promotes dexterity, concentration and coordination
100% from natural or recycled raw materials
Austrian eco-label and German "Blue Angel"
Sustainable, educationally valuable and durable
Made in Austria by an innovative toy startup