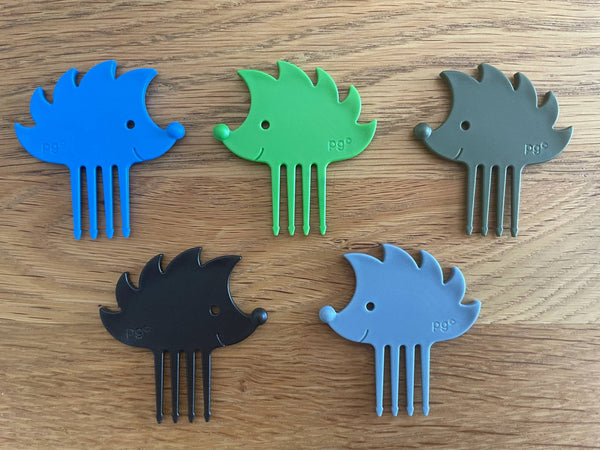 Pieksi and pencil set of 5 "Oceans Five"
Neu ab
Unit price / per
tax included zzgl. Versandkosten
Lieferbar, in 2 bis 3 Werktagen bei dir!
🌈 Pieksi and Griffel: "Oceans Five" set of 5 - Sustainable snack pokes for happy children's hands! 🌈
Immerse yourself in the colorful world of Pieksi and Griffel and bring joy and adventure to your children's plates with the sustainable "Oceans Five" snack picks in a set of 5! In the attractive colors blue, black, olive green, grey-blue and green, these pricks are real eye-catchers that make eating an experience.
Thanks to the non-slip surface and the ideal size for small hands, children learn how to use cutlery in a playful way and develop a desire to try new or less popular dishes. The spikes are almost indestructible, so you can use them at home or on the go without any worries.
The clever barbs ensure the snack stays in place - no more sticky paws or unwanted finger taps! For a hassle-free and hygienic mealtime, the pricks are easy to clean and even dishwasher safe, although hand washing is recommended.
Enjoy the sustainable production of the snack sticks, which consist of over 94% renewable raw materials and are made with love and enthusiasm in Baden-Württemberg. With no BPA, PVC or melamine, they're safe for your kids and the environment.
Details at a glance
Set of 5 "Oceans Five" in the colors blue, black, olive green, grey-blue and green
Grippy material and ideal size for small hands
Almost indestructible
Barbs for securely holding the snack
Easy to clean, dishwasher safe (hand wash recommended)
Manufactured in Baden-Württemberg
Sustainable: over 94% from renewable raw materials
BPA, PVC and melamine free
Recyclable polyethylene (LDPE) packaging, aluminum film free